Summer in the USA
Having done all of these grand Castle adventures you can imagine how often people ask me: "Where are you going to next?"
But here is the problem – I am sitting on at least 2 documentaries worth of footage (that I am editing) so when it comes to travel I have two options:
Go somewhere and don't film
Go somewhere not worth filming
Both of these scare the crap out of me.
And then it came to me – a trip I would want to take where I would take pictures but not video: The American West.
Now you should know that I am crazy and when I plan a trip – I PLAN a trip. (Alas life being what it is – I am NOT doing this trip this summer – but the plan was just to good not to share.)
So here is the idea:
Fly into Bozeman, Montana – rent a care and drive…
Fort Collins, Colorado
Las Vegas, Nevada – gamble a bit – drop off car – fly home.
If you are more visual – this is what it looks like: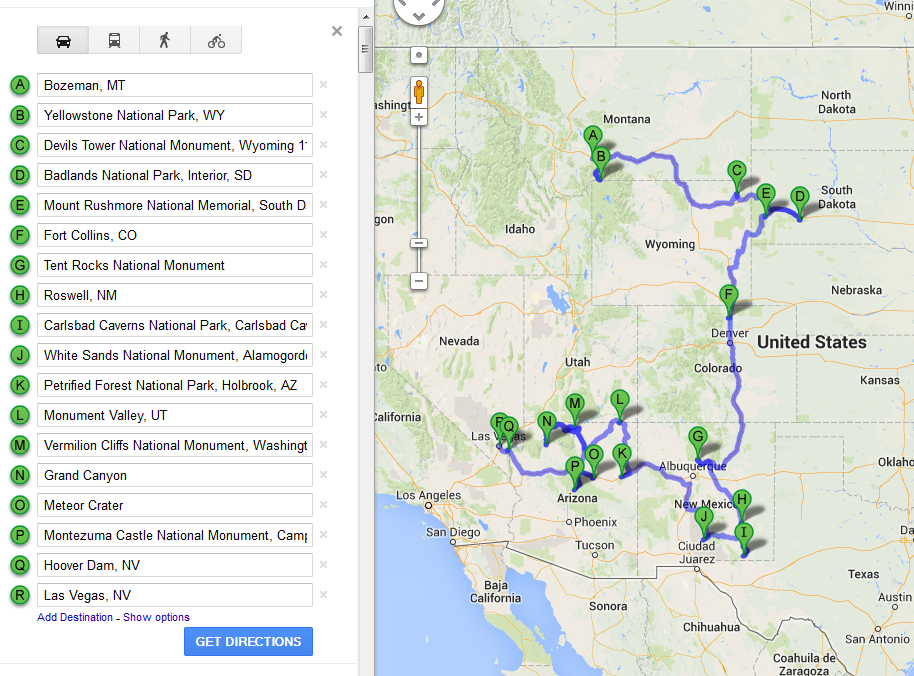 Google says it is 3,884 miles and 70 hours of driving.
Now there are some complications.
First – most car rental companies don't let you drive one-way across state lines – in fact only Budget Rental Car appears to allow you to go from Bozeman to Vegas (and not the other way around – I checked).
Second – this is the American west – there aren't hotels – let alone even cities everywhere.  So I went back and mapped out cities which had hotels such as Spearfish, SD and Tuba City, AZ.
All in all – a glorious 22 days of driving and shooting.
Budget Items:
Car Rental ~ $2600
Gas ~ $800
Admit Fees ~$300
Hotel ~$3,000
Flight to Bozeman, From from Vegas ~ $750
Food & Souvenirs!
I know some of you are thinking this would be cheaper and more fun in a camper but I am not that kinda guy – I need a hotel at night.
So there it is my grand tour of the American West – not this year but hopefully soon!